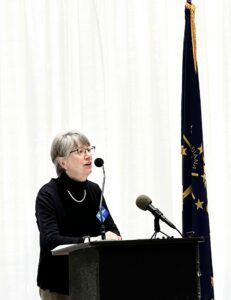 In addition to students from Indiana high schools, state senators and representatives, IFCL Creation Care advocate Mary Blackburn shared information to support legislation to address climate change issues at the Indiana Statehouse, Wednesday, Feb.1.
Coverage by TheStatehousefile.com is covered in the link below.
https://www.thestatehousefile.com/politics/high-school-student-activists-push-for-environmental-change/article_1f747d10-a26b-11ed-a22b-9b6bb4605614.html
Mary Blackburn's remarks are printed below.
Hello, I am Mary Blackburn, the Creation Care Advocate for Indiana Committee on Legislation, a Quaker non-partisan lobbying group. I would like to recognize the effort of this dedicated group of students who believe in the power of democracy and in their voices to speak truth to the leadership of the Indiana General Assembly.
As Quakers we believe that God calls us to be good stewards of the earth and that we need to pay attention to the changes that are causing weather instability in our world.
We believe that God calls us to support the work of the next generations to help them find solutions to these urgent problems.
We believe that creating a task force guided by science and key stakeholders and not by partisanship or special interests is a crucial step for the well-being of all Hoosiers.
The science on climate change has been very clear for 50 years, despite the fossil fuel industry using the tactics of disinformation and doubt to create uncertainty around the science of the warming climate. If our legislators have been fed this information of doubt, how can we help them see the situation through new eyes?
IFCL supports SB335 and its companion bill HB1453 which proposes forming a Climate Solutions Task Force to study and recommend actions to make Indiana more resilient.  Rain events are more intense, delivering more precipitation quickly over a shorter period of time, causing flooding in areas that normally don't flood.  We are having more dry periods between rain events in central Indiana affecting our reservoirs and groundwater. The summers are hotter, and winds are stronger due to the increased amount of carbon being stored in our oceans and atmosphere. All of these changes will have an impact on agriculture, water supplies and the health of Hoosiers.  When you speak with your legislators, share your experience in nature- do you delight in fishing? Visiting the dunes? Birdwatching? Gardening?  Share what you love and ask what they love and care most about.  Find a common ground and go from there. Ask, why not study our Indiana situation and plan ahead for our future, our children's future, and our grandchildren's future?